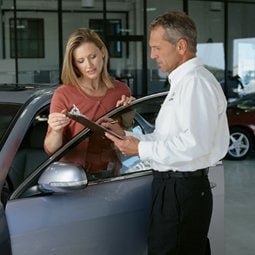 Visit the Service Center at Ford of Downtown LA for Assistance with All of Your Maintenance or Repair Needs
Do you need a tire rotation?  Are you looking for auto repairs in Los Angeles, CA?  If you are looking for an auto shop that offers you a comprehensive service center experience, you should come to see the team at Ford of Downtown LA, located at 1929 S Figueroa Street in Los Angeles, CA.  We are your resource when it comes to everything related to Ford service and repairs.  Additionally, you can enjoy all of the benefits of our superior commitment to customer service when you visit our service center.
Take Advantage of Having Your Car Worked on by the Experts at Our Dealership
It is a comfort whenever you get assistance from an expert.  It doesn't matter if you are looking for Ford sales, service, or parts, you can get the help from a knowledgeable team when you come to Ford of Downtown LA.  The service center at our dealership ensures that we employ an expert team of service technicians when you come to see us.
Our service center is filled with factory-trained, Ford-certified service technicians.  They know the Ford lineup extremely well, so you can count on their expertise and efficiency when you make your appointment with us.  Their many years of experience means that you can get top-notch quality work done on your vehicle.  It also means that you can get assistance for your car service and auto repairs when you come to us no matter what make or model you drive.
Take a Look at the Service Menu at Ford of Downtown LA
We know it can be frustrating to bring your car, truck, or SUV into a service center and be told that they can't address your vehicle's issue.  When you choose Ford of Downtown LA, you won't need to worry about having that problem.  Because of the skill level and experience of our talented service technicians, we can handle all of the auto service and car repairs that come our way.  It also means that we can offer a comprehensive service menu for all of our customers.
Some of the auto maintenance and car repairs we offer include:
Ford of Downtown LA Gives You Service Coupons to Help You Save Some Cash
People from all the Los Angeles area are on a budget.  Our dealership understands that this is the case.  It is the reason that we offer service coupons to all of our customers.  You shouldn't have to put off much-needed auto services, so our dealership does what it can to eliminate the financial obstacle.  Our service coupons are a great way to help you keep more cash in your pocket when you are taking care of your car, truck, or SUV.
When you check out our service coupons, you'll see that there is always a healthy number of car maintenance items on which you can save some cash.  Brake services, oil changes, air filter replacements, tire rotations, wheel alignments, and so much more can be saved on when you visit our service center.  Since our service coupons change often, you can always find some new ways to save at Ford of Downtown LA.
Set Up Your Service Appointments Online with Ford of Downtown LA
Ford of Downtown LA gives you the chance to arrange your service visits online.  We know that time can be tough to find for many people today, so we try to make scheduling your service appointments easy.  Our online service scheduling tool is easy to use and can allow you to schedule your service visits in just a few minutes.
You can set up a time that works for your schedule, and you can use our service scheduling tool whenever it is convenient for your schedule.  Make an appointment with our service team, so you can start enjoying all of the advantages we offer today.